Chute-Out Mobile App
Ridin' for the Fans®!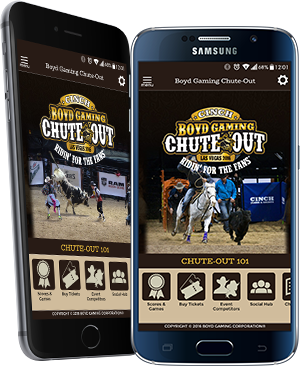 The official Boyd Chute-Out Mobile Application allows for an interactive experience for Rodeo Fans to view exclusive videos from our Rodeo Ambassadors, information on your favorite events, instant access to the latest rodeo news, and more! By downloading now, you will also be able to receive new and upcoming features:
Share your #RidinForTheFans Experience
Get instant access to event information
View local hotel, dining, and entertainment offers
Meet the contestants
View exclusive videos
Real-time interaction with the riders
Live scoring results!
Available for all Android phones, Android tablets, iPads, iPhones and iPod Touch devices.
On a different device or at home?